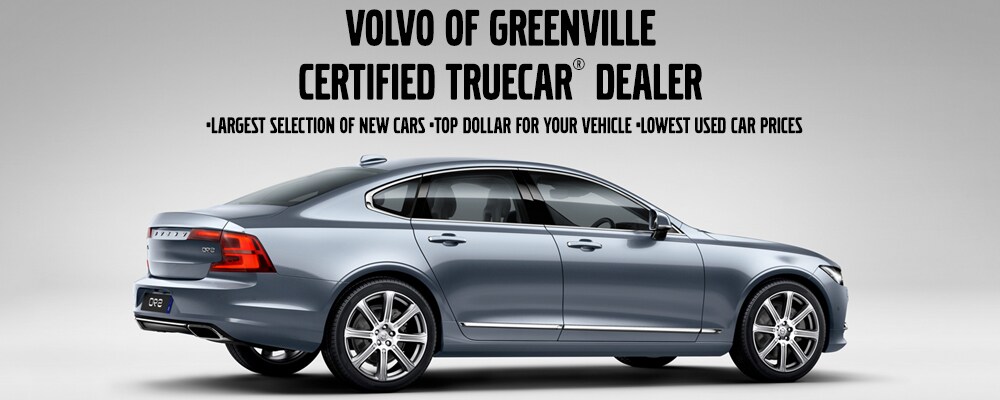 Hours
Monday

9:00am-7:00pm

Tuesday

9:00am-7:00pm

Wednesday

9:00am-7:00pm

Thursday

9:00am-7:00pm

Friday

9:00am-7:00pm

Saturday

10:00am-6:00pm

Sunday

Closed
TrueCar Volvo Dealer Near Columbia, Greenville, Charlotte
Buying a vehicle can be taxing. How does Volvo of Greenville, a Certified TrueCar dealership, manage to keep people from feeling the stress? Thanks to our TrueCar assurance, you'll feel satisfied courtesy of the easy process car buying procedure that guarantees unbiased and honest pricing. As a certified TrueCar Volvo dealership, it gives us the opportunity to offer certain savings for all vehicles without paying too much, ensuring that you get a fair deal. Contact Volvo of Greenville today to get your TrueCar deal.
New Volvo TrueCar Dealership
Clarity is key.  Because we at Volvo of Greenville are a Volvo TrueCar dealership, we believe that the new car purchasing experience should be as accessible as possible, without burden. Volvo of Greenville's new vehicle department has a large selection of new cars and SUVs and thanks to our TrueCar guarantee, we strive to surpass our customer's assumptions, while maximizing your savings. The TrueCar process is an innovative way to purchase your next vehicle and Volvo of Greenville is proud to be your premier Volvo TrueCar store in the Greenville area.
Pre-Owned Volvo Certified TrueCar Dealer
As a Certified TrueCar Pre-owned Car Dealer, we are devoted to the truth in the purchase of a used car or SUV and strive to be forthright in every aspect of how customers are treated. We offer a considerable array of pre-owned vehicles for sale including Jaguar, Land Rover, Porsche, Volvo, Infiniti, BMW, Audi, Mercedes-Benz, and more. With the Volvo TrueCar pledge, there is no pressure to buy the pre-owned vehicle you have been looking for.